Hilton Madrid Airport Hotel
40.4523

,

-3.5859
193US$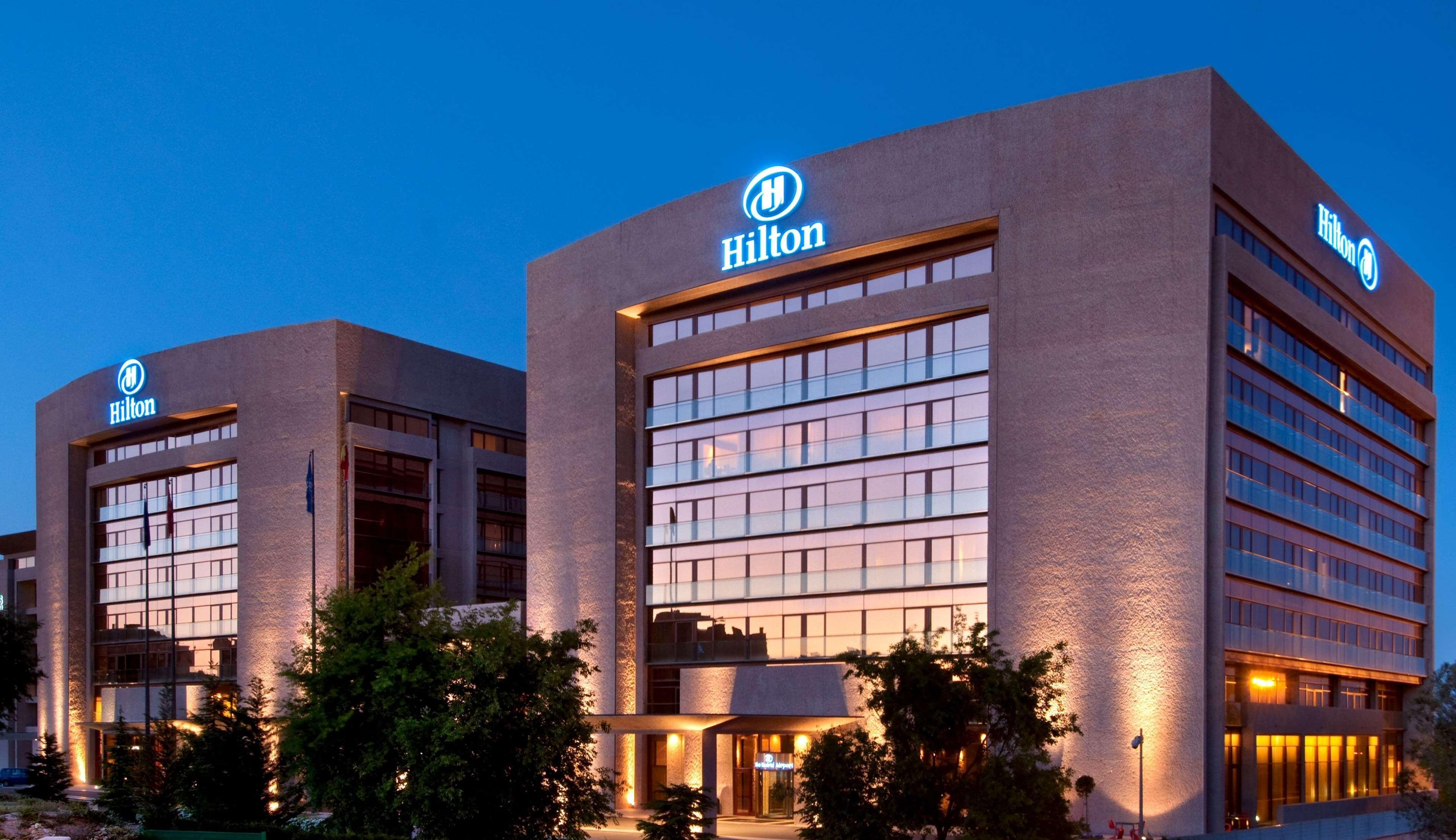 Highlights
Hotel Awards
Spain Hotel Awards
Hilton Madrid Airport Hotel,
Madrid
highly recommended
Address
Avenida De La Hispanidad 2-4
,
Madrid
,
Spain
,
28042
,Community of Madrid
Overview
The stylish Hilton Madrid Airport is located 25 minutes' drive from Adolfo Suarez Madrid-Barajas airport and offers a seasonal outdoor pool as well as a fitness center. The modern hotel offers 284 rooms in a shopping area of the city within walking distance from a subway station.
Location
The Madrid hotel is located in the Barajas district. The contemporary 4-star accommodation is nestled in the very heart of Madrid. The Madrid hotel also lies within spitting distance of convention centers and exhibition centers. Also, Hilton Madrid Airport is within 25 minutes' walk of Casa de Campo, and Atocha's is placed 20 minutes' drive away.
This property is located 0.5 miles from Adolfo Suarez Madrid-Barajas airport and minutes from Medina de Pomar - Frias bus stop.
Rooms
Each of the non-smoking rooms has a balcony and a dining area, and some feature bright interior. Some rooms overlook the hills and offer king size beds or twin beds.
Eat & Drink
The Hilton Madrid Airport features a daily buffet breakfast. In-house La Plaza restaurant serves international cuisine for dinner, and lunch can be enjoyed at Reserva Grill.
A full breakfast is served at the price of EUR 27 per person per day. 
Leisure & Business
Guests can request for a swimming pool and an indoor swimming pool at an extra charge. The stylish Hilton Madrid Airport features a spa-center to add to a perfect stay. Business travelers will have access to a meeting room provided on site.
Internet
No internet access available
Guest Parking
Paid Public parking is possible on site.
The personnel at the hotel speaks English, Spanish, Italian, Catalan, Portuguese, Romanian, Arabic.
Year renovated:   2008.  Number of floors:   6.  Number of rooms:   284.
Best-Rated Hilton Hotels & Resorts Hotels around Madrid
"Hilton Hotels & Resorts prides itself on offering guests excellence in hospitality, boasting a luxurious atmosphere and unparalleled service that caters to every whim. From indulgent spa treatments, gourmet cuisine, and state-of-the-art fitness facilities, to stunning locations and events facilities - Hilton Hotels & Resorts ensures that every stay is unforgettable. Choose Hilton Hotels & Resorts for an unrivaled experience of opulence and extravagance."
1999 reviews

238$ / night

220 reviews

105$ / night

1300 reviews

344$ / night

3143 reviews

209$ / night

3215 reviews

102$ / night

789 reviews

115$ / night

754 reviews

108$ / night

424 reviews

301$ / night
Facilities
Most popular facilities
Baggage storage
Baggage storage
Locker room
24-hour services
24-hour reception
24-hour security
Food/ Drinks
Bar/ Lounge area
Restaurant
Welcome drink
Swimming pool
Outdoor swimming pool
Indoor swimming pool
General
Paid Wi-Fi
Parking
Baggage storage
24-hour services
Food/ Drinks
Shuttle
Fitness/ Gym
Swimming pool
Sports & Fitness
Fitness center
Tennis court
Golf course
Fitness studio
Services
Airport shuttle
Room service
Housekeeping
Laundry
Dry cleaning
Welcome drink
Dining
In-room breakfast
Restaurant
Bar/ Lounge area
Special diet menus
Business
Business center
Meeting/ Banquet facilities
Fax/Photocopying
Spa & Leisure
Indoor swimming pool
Outdoor swimming pool
Sun loungers
Casino
Spa & wellness center
Sauna
Steam room
Room view
Sea view
Garden view
City view
Mountain view
Pool view
River view
Landscape view
Room features
Free Wi-Fi in rooms
Air conditioning
Heating
In-room safe
Mini-bar
Soundproofed rooms
Sitting area
Tea and coffee facilities
Ironing facilities
Bathroom
Bath/ Shower
Hair dryer
Free toiletries
Bathroom telephone
Self-catering
Kitchenette
Refrigerator
Electric kettle
Microwave
Dryer
Media
Flat-screen TV
Direct dial telephone
AM/FM alarm clock
Good to know
Check-in
from 14:00-23:59
FREE
Check-out
until 12 pm
FREE
Children & extra beds
There are no cribs provided in a room. 
Pets
Pets are allowed on request.
Rooms and availability
Premium Executive Corner King Room

Bed options:

Room size:

485 sq. feet

Bed options:

Room size:

400 sq. feet

Max:

2 persons
Shower

Heating

Bathtub

Air conditioning

Bed options:

Room size:

400 sq. feet

Max:

3 persons
Shower

Heating

Bathtub

Air conditioning
Location
Avenida De La Hispanidad 2-4
,
Madrid
,
Spain
,
28042
,Community of Madrid
City landmarks
Nearby
Restaurants
Hotels nearby
Plaza de Toros de Las Ventas,
Plaza de Toros de Las Ventas
4.3 mi
Event hall
IFEMA Convention Center
1.7 mi
Park
Quinta de los Molinos park
2.3 mi
Calle Antonio Sancha
castle of La Alameda
3000 ft
Football Stadium
Estadio Metropolitano
1.3 mi
The Moorish Garden
Fuente de la Concha
2900 ft
Avenida de La Hispanidad 15
Avda de Logrono
Sculpture of Fingers
3800 ft
Shopping Area
Centro Comercial Plenilunio
1.2 mi
Palacio de los Duques de Osuna
3100 ft
Park
Parque Juan Carlos I
1.5 mi
Square
Plaza de San Cristobal
2700 ft
Nido de ametralladora
3000 ft
Club de Tenis Alameda
3000 ft
Gruta del Jardin de la Fuente de las Ranas
3000 ft
Church
Parroquia Padre Nuestro
3100 ft
Parroquia San Cristobal
3100 ft
Fuente de los Delfines
3200 ft
Gruta del Laberinto
3200 ft
Cementerio Parroquial Nuestra Senora de la Alameda
3200 ft
Parking area
Parking C.C. Plenilunio
4300 ft
Parroquia Santa Cecilia
600 ft
Restaurant
El Mirador de Palma
2600 ft
Restaurant
La Ene Denominacion De Origen
1.1 mi
Restaurant
Che Asador Argentino
1.2 mi
Getting around
Airports
Adolfo Suarez Madrid-Barajas

(MAD)
6.2 mi
You can book a shuttle, once your reservation is complete.
Essential information about Hilton Madrid Airport
| | |
| --- | --- |
| 💵 Lowest price | 193 US$ |
| 📏 Distance to center | 6.5 mi |
| 🗺️ Location rating | 7.8 |
| ✈️ Distance to airport | 6.2 mi |
| 🧳 Nearest airport | Adolfo Suarez Madrid-Barajas, MAD |
Reviews of Hilton Madrid Airport
Michael

Convenient airport transportation, prompt check-in, spacious and comfortable room with a good-sized bathroom. Quick room service delivery. Close proximity to the airport.

Stephen

Fast shuttle service, comfortable bed, spacious room, prompt check-in, delicious breakfast, great food at the bar/restaurant, beautiful pool, convenient location for early flights, helpful staff, complimentary airport transportation.

Gareth

We really enjoyed this place.

John

This place is conveniently located near the Alameda de Osuna metro station and the on-site restaurant, Ferrum Bar, was a pleasant surprise where we enjoyed dinner.

James

We had a fantastic stay at this luxurious 4-star hotel! The location here was absolutely perfect for us as it was very close to the airport. The convenience of being just a short distance away from the airport made our travel experience so much smoother. The hotel also offers an airport shuttle service, which was a major plus for us. The staff here were truly exceptional, always attentive and helpful in every way. The room itself was extremely comfortable, with a spacious layout and a king-sized bed that provided us with a great night's sleep. The amenities provided were top-notch, including a refreshing pool that our kids really enjoyed. We were also delighted to have a delicious breakfast included with our stay. this place exceeded our expectations and provided us with enhanced comfort and quality services.

For those looking for a lively and bustling area, this hotel may not be the best choice. The hotel is situated in a light industrial area, which means there aren't many options for nearby restaurants or other attractions within walking distance.

Alan

Comfortable bed, spacious room with a sofa and desk, excellent bathroom with walk-in shower and spa bath. Friendly and helpful staff. Convenient location near the airport. I would recommend this hotel.

David

Spacious, clean rooms with breathtaking bathrooms. Indoor pool area is gorgeous but pool is cold. Helpful staff. Close to airport with convenient free shuttle.

Ernest

executive room and girl's treatment. free transport from the airport. bathroom in the Relaxation room

You can say it's a five-star hotel when it's four. The furniture in the room is broken and leaves a lot to be desired, the piped music didn't work, the minibar didn't work either, the TV didn't have an audio output. In less than 24 hours I had to contact the staff about 20 times, due to the incidents with the card to take the elevators that prevented me from going up to my room. At the breakfast they put us in evidence in front of all the guests telling my girlfriend that she can't have breakfast because she only had one person signed up when the staff knows from the first minute that we are a couple and we are going to the anniversary paying 200 ? per night with breakfast. They took away our hunger and they were late in communicating that we could have breakfast, I had to get up leaving the breakfast on the table because they were unable to solve it, when they did it they dismantled the buffet. With the displeasure at the end we had breakfast . In the reserve I had a music device which later turned out to be non-existent. When I went to the Spa I left my mobile phone at the reception with the room card well stored inside the case. When I returned my mobile, the card was gone and I was given one that said it had been found on the floor. When we go to the elevator the card was not ours since he did not let us use the elevator we had to wait a long time wet in our bathrobe to go up to give us another one and deactivate the stolen one. I go to a Relaxation room and leave angry and stressed out because of what happened. A price list with no minibar prices

Sarah

Thomas

During my recent stay, I experienced exceptional service and a comfortable stay at this luxurious 4-star hotel. The check-in process was quick and efficient, thanks to the professional and informative staff. I was pleasantly surprised by the spacious and modern room, which exceeded my expectations. The hotel's location in a light industrial area provided a quiet and serene environment, ideal for relaxation. Additionally, the airport shuttle service was convenient and easy to find.

In terms of location, this venue is situated in an uninspiring area, surrounded by factories and an industrial park. However, this did not hinder my enjoyment of the hotel's luxurious facilities and quality services. I would still highly recommend this hotel to all.

Henry

room and view.. They gave us a drink and strawberries and chocolate for our wedding

It was my wedding and we were wearing my wedding dress and a bunch of bags. The staff who didn't answer didn't care about that, they were more attentive to the phone. When he gave us the room he didn't tell us which building and we went up to the other one, we had to come back down with all the suitcases and my huge dress and then he told me it was in the other building. We arrived and in spite of having explicitly asked for a room with a view (for the wedding preparation photos) we had been given a view of other buildings. I called the reception and he said that he would change my room and bring us the key. We waited for 20 minutes when I was in a hurry because I had to prepare for my wedding. No one came up, I had to go down to get the key. The staff was still talking on the phone and gave me the key and I went upstairs and again with all the bags somewhere else...

Dave

The room was quiet and comfortable. The shower was a favorite feature. Efficient and courteous shuttle drivers. Hot and plentiful water. The bed was huge and very comfortable with UK TV and air conditioning. Attentive staff during breakfast. Prompt check-in. Spacious and fresh room with good size bathroom. Room service arrived quickly. Nice pool area. Close location to the airport. Free airport shuttle service.

Robert

As a Gold member, I received a complimentary executive room upgrade with access to the executive lounge where I enjoyed complimentary small meals and drinks in the evening. The breakfast provided exceeded my expectations. The location of the hotel was convenient with easy access to the metro. Overall I had a great stay.

Tony

Which is next to the airport

driver of the transfer that received us passed by at the airport stop when all the other transfers stopped even for a second. Not only did he have no intention of stopping, when we ran out behind the van and he finally stopped, he received us in a bad way and reproached us for having to signal him to stop, in short, very unpleasant reception since when we tried to explain to him that we thought he would stop like the rest of the transfers he answered that that was the rest of the transfers, he was not like that, as if we had to guess. As for the amenities of the room, quite scarce for what you expect from an establishment like this, I missed cottons and being two people who occupied the room we only got a bathrobe. food at the Snack Bar was quite normal for the price, not to mention the cobwebs next to our table. In short, disappointment with this establishment that I expected much more for the price and name it has. We will not repeat in our return to Madrid.

Susan

Convenient location, comfortable rooms, courteous staff. Regular shuttle service to and from the airport. Helpful tips on getting gasoline. Onsite parking available.

Felt well taken care of, no complaints.
FAQ about Hilton Madrid Airport
How far is the city center from the Hilton Madrid Airport?
The Hilton Madrid Airport is located in Barajas district in the very heart of Madrid.
Is airport shuttle provided by Hilton Madrid Airport?
Bus shuttle which will take you to Hilton Madrid Airport with a 25-minute drive is among the services offered by the property. Please inform the staff about your estimated arrival time.
Does the Hilton Madrid Airport have parking on site?
Yes, the Hilton Madrid Airport features a private parking lot available on site.
Is there any public transport near the Madrid hotel?
Yes, there is Medina de Pomar - Frias bus stop within 400 feet away from the Madrid hotel and Alameda de Osuna metro station within a 10-minutes walk.
What are the dining options in the hotel?
Guests are welcome to enjoy dishes of international cuisine served in the à la carte restaurant La Plaza located at the hotel.
Can I have lunch or dinner next to the Hilton Madrid Airport?
You can dine at Intertrace SL and Jardin de China Yin restaurants located within a 12-minute stroll from the Hilton Madrid Airport.
Does the Hilton Madrid Airport serve breakfast?
The Hilton Madrid Airport offers buffet and American breakfast types, served daily in the restaurant.
What is the timeframe for check-in and check-out in the Hilton Madrid Airport?
Guests of the Hilton Madrid Airport can check in from 2 PM to 11.59 PM and check out from 12 PM.
Which facilities are included in the rooms at the Hilton Madrid Airport?
Some suites at the Hilton Madrid Airport boast floor to ceiling windows, a couch and a work desk as well as private bathrooms which include hairdryers and a Jacuzzi.
Does the Hilton Madrid Airport offer special amenities for people with disabilities?
Yes, at the Hilton Madrid Airport there are rooms with facilities for disabled and wheelchair access available for guests with special needs.
Does the Hilton Madrid Airport staff speak foreign languages?
Yes, the staff of the Hilton Madrid Airport can assist you in Italian, Catalan, Spanish, Portuguese and Romanian.
Which facilities does the hotel provide?
The hotel includes such facilities as an ATM and currency exchange, whereas guests' safety will be ensured with a safe deposit box and fire extinguishers.
What are the spa options at the Hilton Madrid Airport?
Spa facilities in the Hilton Madrid Airport include a steam room, sauna facilities and an outdoor swimming pool.
Is there a swimming pool in the Hilton Madrid Airport?
Yes, the Hilton Madrid Airport features a seasonal outdoor swimming pool.